Band Bio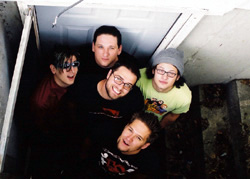 Dreadnok: Ripper has been playing hardcore punk since 1998.
Composed of self-taught, day-job working 20-somethings, Dreadnok: Ripper truly embodies the do-it-yourself ethics of the myriad punk and indie bands that have come before them. Over the past 10 years their music has been recorded and engineered by guitarist Rob Pozen. Artwork and web design have been handled by bassist Brandon Campbell and guitarist Ian Wotkun respectively. Promotions and the booking of hundreds of shows have been managed by vocalist Gabriel Mauch and drummer Doug Van Ramshorst.
Fast and aggressive, Dreadnok: Ripper's sound is reminiscent of early Circle Jerks, yet maintains a decidedly mid-western feel by combining the driving rhythms of Articles of Faith with pummeling, Pegboy-esque percussion. With lyrical content ranging from the introspective lamentations of "Taken Hold" to the simple extolments of living in Northwest Indiana in "Region Rats" the band strives to keep itself grounded on the things that matter: life, loved ones and loud music.i
Brandon Wayne Campbell
Name: Brandoon
Age: 24
Weapon(s) of Choice: Yamaha RBX-360 Bass Guitar, Ampeg PR-410HLF cabinet, a Peavey Mark VII and of course a full round of BODY MASSAGES!
Bands That Rip: Bad Brains, The Descendents, the Pixies, T.S.O.L., the Nerve Agents and the Gorilla Biscuits!
Reason Number 1 For Hating King George II: HE STOLE THE 2000 ELECTION! Learn-ding is fundomentil.... and knowing is half the battle G.I. JOE!!!!!
Email: brandon@dreadnokripper.com
Rob Pozen
Name: Rob
Age: 82
Weapon(s) of Choice: Epiphone les paul and paul stanley signature silvertone, Fender hot rod deville 4x10 and an arsenal of swanton bombs.
Bands That Rip: Ramones, AcDC, Against me, Kiss, Iron Maiden, GnR, Misfits, Adolescents (Rikk Agnew), Aerosmith, bad religion
Reason Number 1 For Hating King George II: Cause he hates me.... and he looks like a weasel
Email: rob@dreadnokripper.com
Ian Wotkun
Name: Ian
Age: 24
Weapon(s) of Choice: Schecter PT Blackjack, Ibanez RG220, Marshall VS-100 Billion watt half stack, BIG MUFF, MXR Phase-90, Boss CE-1 Stereo Chorus, Dunlop Crybaby Wah, giant shoes.
Bands That Rip: Devo, Tom Waits, Depeche Mode, The Smashing Pumpkins, The Agony Scene, Nick Cave and The Bad Seeds, The Crucified, Joe Satriani, Iron Maiden, Anthrax, Demon Hunter, Starflyer 59, Wilco, Son Volt, They Might Be Giants, Nine Inch Nails, Living Sacrifice.
Reason Number 1 For Hating King George II: Everything he says is a lie, or an excuse. And he wants to outlaw high powered rocketry! The terrorists have won....
Email: ian@dreadnokripper.com
Jøhn Doüglas Van Der Vookenhaüsen
Name: John Douglas
Age: 25
Weapon(s) of Choice: A tiny, tiny drumset from the British Isles. Gigantic cymbals of Turkish descent. Generic drumsticks of 30 pack descent.
Bands That Rip: ACX, Bad Brains, Belle and Sebastian, Ballydowse, Billy Bragg, Blaster, Blenderhead, Bloodshed, The Breeders, Circle of Birds, The Clergy, The Colemans, Coolidge, Crashdog, The Cure,Damien Jurado, The Dead Kennedy's, Denison Witmer, The Descendants, Ani Difranco, Discount, The Effigies, Fugazi, Havalina Rail Company, Jay Farrar, Joe Christmas, Joe Strummer, Johnny Cash, Kat Jones, LSU, MC CHris, Me Without You, Morella's Forest, Naked Raygun, Nerve Agents, New Model Army, Nonety Pound Wuss, One Last Wish, One 21, Outer Circle, Pedro the Lion, Pegboy, Phantasmic, Pixies, Pretty Girls Make Graves, REM, Raft of Dead Monkeys, Rainer Maria, Red Snapper, Richard Swift, Roadside Monument, Scaterd Few, Son Volt, Sonic Youth, Spy Glass Blue, Starflyer 59, Stereolab, The Streets, Stiff Little Fingers, Sufjan Stevens, Subhumans, Suffering and the Hideous Thieves, Sugar Cubes, TSOL, Tetes Raides, The Tragically Hip, Unwed Sailor, Uncle Tupelo, VOL, Yann Tiersen, Yo La Tengo
Reason Number 1 For Hating King George II: Opening unjust wars on two fronts while ignoring real problems in our own country and making it impossible to provide a formidable threat against North Korea and preventing GENOCIDE in Sudan.
Email: doug@dreadnokripper.com
Gabe Mauch
Name: Gabe
Age: 24
Weapon(s) of Choice: Mouth, Good Looks
Bands That Rip: The Eagles, Radiohead, Bonnie Raitt, The Beach Boys, and .... OH WAIT!!
Reason Number 1 For Hating King George II: Reason number 1 would be that there are sooooo many reasons to choose from. Number 2 would be the fact that thousands have died in his scavenger hunt for weapons of mass destruction.
Email: gabe@dreadnokripper.com